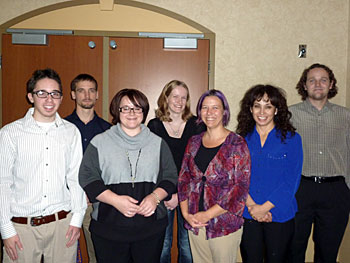 Rob Vogel and Angela Finnie - PTK Advisors
Sara Parks - President
Justin Parks - Vice President of Leadership
Shannon Laughing - Vice President Service
Well, hello there. My name is Shannon, and I am your VP of Services. I am currently in school working on my A.A. Transfer so I can go to Whitworth for a B.S. in chemistry with a biochem. minor, then it is off to grad school for a Ph.D. in biochemistry. I plan on saving (or at the every least explaining) the world with chemistry. To do that, I will work in biomedical research until I miss contact with real people, then I will find a faculty teaching position with a university somewhere. I joined PTK to meet other like-motivated students. I love the involvement that this chapter offers within our community and our campus, from making breakfast at the Ronald McDonald house to hosting Pi Day here on campus.
"Thoughts become things... Think the good ones." ~ Mike Dooley
Conner Marsden - Vice President of Fellowship
Lennon Von Weiller - Vice President of Scholarship
Kathleen Clark - Secretary/Communication Officer
Hi! My name is Kathleen Clark and I am the Phi Theta Kappa secretary. I am currently attending SCC for my transfer degree to EWU or WSU where my path is undetermined at this moment. I enjoy volunteering at my church, where I design crafts for the kids on Sundays and make espresso with my fiancé after the 11 o'clock service. I have a passion for planning events in my life and helping others. I originate from Houston, TX and lived there for 10 years. I have been living here in Spokane for nine years. Conclusion: Je déteste la neige! Currently I am a server at a retirement home and I'm enjoying every moment. I also am a returning work study in the transfer center. God has blessed me in every aspect of my life, whether it is not doing so well in a class to teach me a lesson, or setting me up with the right people at the right time.
"Let all that you do be done with love." ~ 1 Corinthians 16:14
Jessica Steinberg - Treasurer